Click the link below. It is highly recommended to buy a Conan Exiles server from SurvivalServers.com (official ARK host) here:

You get access to a control panel to easy one-click change settings: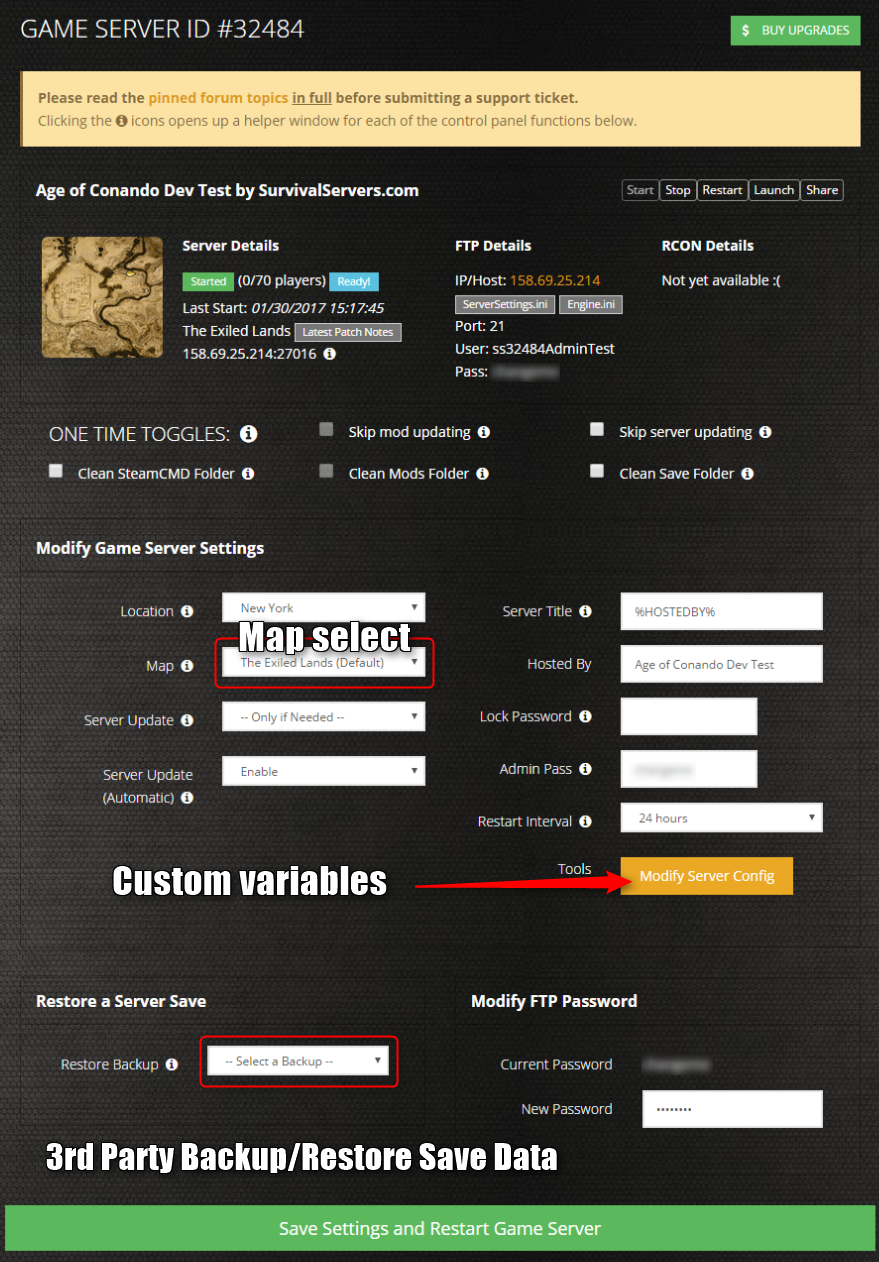 Click here to setup a game server with SurvivalServers.com [NA or EU servers]
-----------------------------------------------------------------------------------------------------------------
-----------------------------------------------------------------------------------------------------------------
... or you can create your own dedicated server at home on your Windows computer using this guide.
UPDATE #: Fixed the .ini files and launch line
UPDATE#2: Renamed ConanSandboxServer.exe to ConanSandboxServer-Win64-Test.exe - it's possible this is just for test builds though, so might have to rename it back.
UPDATE#1: Fixed some formatting errors and spelling mistakes.
-----------------------------------------------------------------------------------------------------------------
Hey there, i'm making use of this fan created community forum and post my way to create my own local hosted (ON THE SAME COMPUTER!) server that everyone and i myself can join. Would have posted this on the Community Forums of Steam, but they bugged and i couldn't post it.
Do i need SteamCMD?
Yes you will need SteamCMD. The app files are separated on the game vs the server app.
Creating the Server!
Where can i find my "ConanSandboxServer-Win64-Test.exe" file?
1. Create a folder for SteamCMD and a folder for the Conan Exiles server files:
C:/steamcmd
C:/conanserver
2. Download the SteamCMD (Windows) Update Tool.
http://media.steampowered.com/installer/steamcmd.zip
3. Extract the contents of the zip to the folder.
4. Right click in the folder and create a new Text Document. Create a file named
FetchServerFiles.bat
with the content:
5. Run the FetchServerFiles.bat to get all of the Conan Exiles server files installed to c:/conanserver
Setting up the server launch .bat file!
So, we want to create a bat file to Start the ConanSandboxServer-Win64-Test.exe and put in some commands.
By now you should have all of the server files ready (about 12 gb ~ in size) and should be ready to launch a server.
Navigate to the directory with your Conan Exile server files (in our case c:/conanserver)
Right click in the folder and create a new Text Document. Name it what you want. I named it "StartServer.bat".
Open it up and copy the following:
Make sure that you change the capslock texts:
Once you finished setting this up, go to "File->Save As" in your Text Editor and save the file like this:
Make sure you also include the " at the beginning and end.
Now the file should look something like this:
Setting up the config file!
I don't really know if this is overdoing it, but we will also put settings into the config file.
Where can i find that file?
and it is called "ServerSettings.ini"
My whole file looks like this:
Another file you can edit is the Engine.ini file, here's what I have below:
It's important not to mess with too may of the variables unless you are sure of what they are.
For example, you can go into the game client and click on the Host / Local play button and see all of the settings there. Those settings correlate to the settings you see in these config .ini files.
The rest of the settings can be changed, but we will leave them for now!
Save the file again.
Hosting the Server!
Check your Ports!
Make sure that you open the ports 27015 and 27016 on both your router and your Windows Firewall!
This is important, but i can't really help here, since this depends on the router you are using.
Starting the Server!
Move back to the .bat File folder and double click the .bat file. This should create a small CMD window after a few seconds, which looks like this and will always stay like this:
With this, the Server is running. It will take a few MINUTES for it to be fully registered with the Conan Exiles master server to show up in the Server Lists.
Joining the Server!
Others Joining the Server!
First of all, make sure that the Server is running by doing the following:
Open up your main Steam window and open the upper left tab called "View". There should be a point called "Server" which opens the good old server browser from Steam. Go to "LAN" and select Conan Exiles as a Game in the lower left filter. Refresh the List until you see your Server, this can take some time.
And yes, you are seeing your own Server as a LAN Server. We will get to this in a sec.
As soon as you see the Server, you know it is up and running!
After you see your own Server in the Lan List, you can find your server using one of the following third party resources:
http://topconanservers.com/
- web browser for Conan Exiles servers
In the upper right search field, search for your Server, either by the Name you took for it or by using your IP (not the local one, use "whatismyip.com" to find out what your IP is).
At least THERE you should find it. Otherwise there is something fishy with the Ports i guess.
If you found it, click on it and send your friends the link to your Server. Tell them to close the Game and click on the IP. Clicking on the IP will let them Connect to the Server.
This is how my friend joined my Server and it worked. It could also work through the normal UNOFFICIAL Server List or the Steam Internet Server List, but this is how it worked for us. There's currently a bug with the unofficial server list not showing all servers.
Joining the Server yourself!
You can use the methods above to join yourself as well.
Admin Commands and additional Server Settings!
You can find a list of admin commands (that you can type in through the console) and Server Settings here.
Coming soon...
Troubleshooting!
How to update my SteamCMD Server after Conan Exiles was updated?
Go ahead and launch SteamCMD again with the FetchServerFiles.bat file (double click it) Login again like you did the time you installed the Server.
Make sure that you, again, have the following in your SteamCMD file:
And example would be:
Now type in the following:
Which will update the Server App.
I can't find my own Server in the List?
First of all, which list?
If you can't find it in the
LAN list
, make sure that you at least waited 5 minutes.
Could even take more time. The Server needs time to register with the Master Server from Conan Exiles.
If it is still not visible, check the Settings and .bat file again. Maybe you misstyped something.
Also make sure that your Ports are forwarded!
If you can't find it in the
UNOFFICIAL list inside of the game
, this is normal. You won't find it yourself.
You still need to search for it with the correct filter settings (Check Password Secured Servers if needed), although it
won't find the Server. This is a work around for Server Hosts, because they can't find their own Server without.
Additional Information!
This is how it works for me. I hope it will do the same for you. I can't really give your support here, since i'm not a developer of this game. Please be nice to each other and the Devs, and let us enjoy this awesome game!